Chess Tournament.

February 12th, 2023

Shake shack, 111 Washington st, Hoboken, N.J..

1:00 PM rated
hudsonchessclub@gmail.com



phone 1-201 344 4198

Newport Chess Club Tuesdays 6:00 PM Newport Green Park ( summer hours)
Hoboken Chess Club
Mondays 5:30 PM
620 washington St, Hoboken
Mango Mango




To join.



CLICK HERE
Hoboken Chess Club Monday classes

7 days a week
Hoboken chess Club.

Hudsonchessclub@gmail.com








On Line Chess groups
Directed by Professional Chess instructors.

ON-LINE LESSONS

Thursdays 6:00 PM

and free on-line weekend tournaments inclusive to members.







$60 per month ($7. per session)
State Chess Champions! Article.
Join our on-line Chess lessons.
To register for events,
click registration below;
Chess tournament.


ON-LINE Lessons
Must pre-register
EMAIL hudsonchessclub@gmail.com
Washington Park / Jersey city heigts/ Union City
CHESS CLUB




Chess begginers club.


SUNDAY MORNING CHESS.

12:30 Harborside.
210 Hudson street. Jersey City


Advance players come by for some games.
Hoboken Chess will meet 3:15 PM Panera Bread.Thursdays.
King and Pawn endgame must see.
.
Chess Article about our Club. Hoboken reporter 7-12-2015
Email below;
Chess Camp.
Bergen County Championship.
Home of the Champions.
Chess instructor Peter Croce.
Croce has the most chess champions in New Jersey.
To register ,
Click below.
Hudson County Chess Champions link
Newport Chess Champions 2009
Chess tournament held at the Pavonia Branch library.
2009 US chess Championship link.

Hudson County Chess Championship.

Your School has a Chess Champion.

Jeremiah Naramore from the Mustard Seed School in Hoboken Won the Hudson County Chess Championship on Saturday, March 28th, 2009.

Jeremiah went a perfect score of 5 wins and NO losses to win the third grade title.

Jonathan Lenz from the Hoboken Charter School won Third place in The Kindergarten section.

Kindergarten Champion Surya Sendhilraj from PS 16 School And the Hoboken Chess Academy won all his games to place first.

First grade Champion Adhish Kadam from PS 16 and the Hoboken Chess Academy also went 5-0.

The Champions from Kindergarten, First grade, Second grade and Third grade,

All went 5-0.

Players from the Wallace school were represented as well.

Please join me in congratulating the New Hudson County Chess Champions.

Second Grader Keisha Solanki won 3 games respectfully to place 4th and trophied.

Vineet tiwari and Thomas Narramore won 3 games respectfully as well.

Hudson County Chess Association, Inc.

for info

google Hudsoncountychess

CLICK here for Pizza party / Chess tournamnet 03/14/09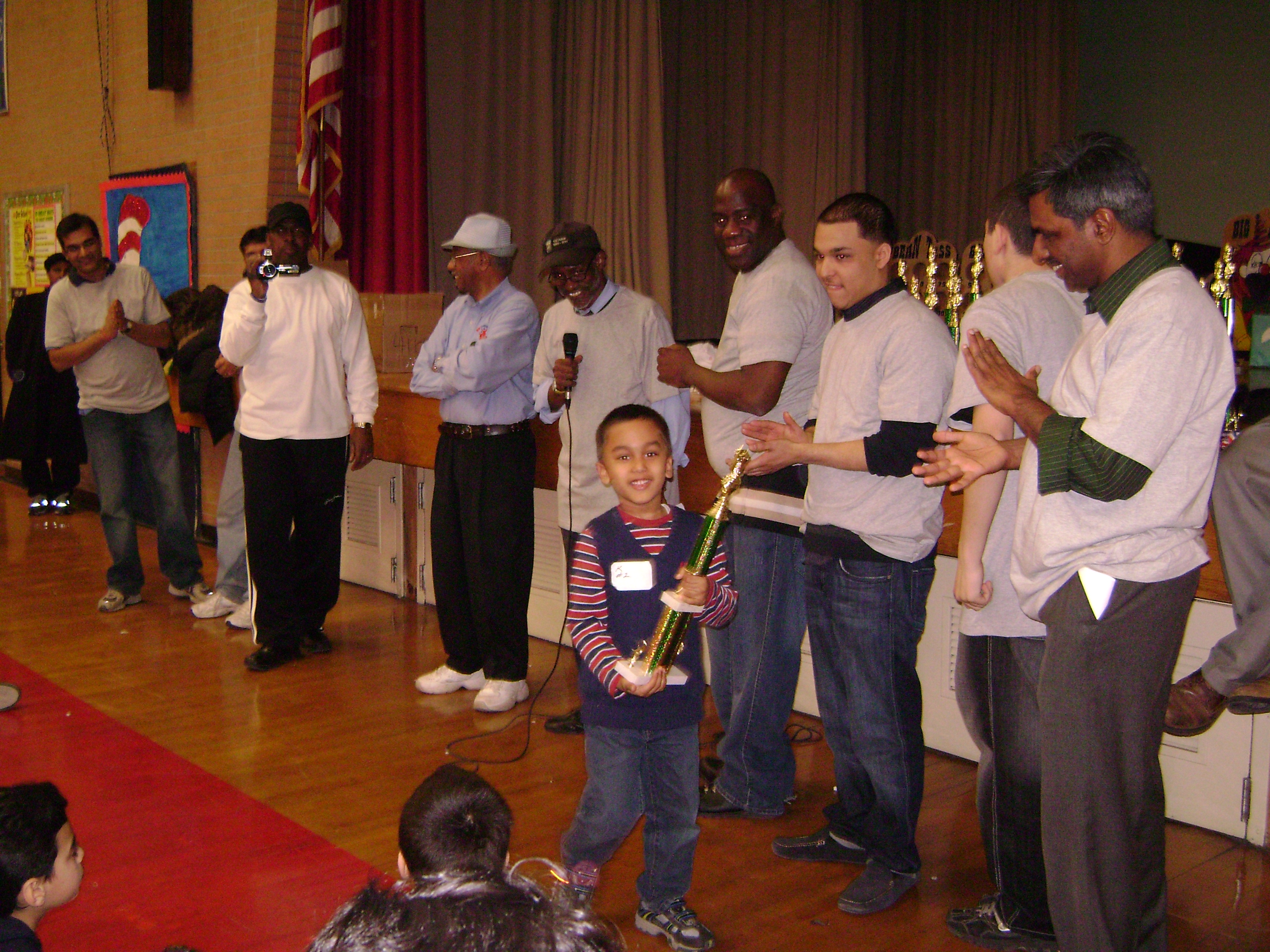 Another Great Weekend!
Last weekend at the Jersey City Public school championship,
Students from the Newport Chess club domanated.
OUR NEWEST CHAMPION.
Kindergarten Champion Surya Sendhilraj
won all his games to place first.
First grader Adhish won the first grade championship,
And All the second graders succeded! as well.
And it gets better.
Players past and present from this group
won The
NEW JERSEY STATE CHAMPIONSHIP.
Chess dedication to Peter Croce
New Jersey State Chess Championships;

Winners

2001, 2002, 2003, 2004, 2005, 2006, 2007,

2008, 2009, 2010, 2011.
State Champions 2008
Peter Croce is a proven Chess instructor.

He has over 6000 students.

His students have won;
Over 100 individual Chess championship trophies
Over 45 team championship trophies.
5 Elementary divisional New Jersey State championships
3 primary divisional New Jersey State championships
5 individual State championships
1 high school individual

New Jersey State

championship
Chess History. View this video.
Chess Club in Your Area.
Hudson County Chess tournamnet 2009
In March.
STATE CHAMPS, 2008!

Please join me in

congradulating

the Newport chess kids,

(Whom I direct on

Mondays and Wednesdays)

For winning

The NEW JERSEY STATE CHAMPIONSHIP.

1st place, second grade.

Sunday November 23rd, 2008.
Winter Chess Camp sign-ups.
See Chess Camp.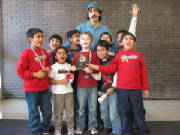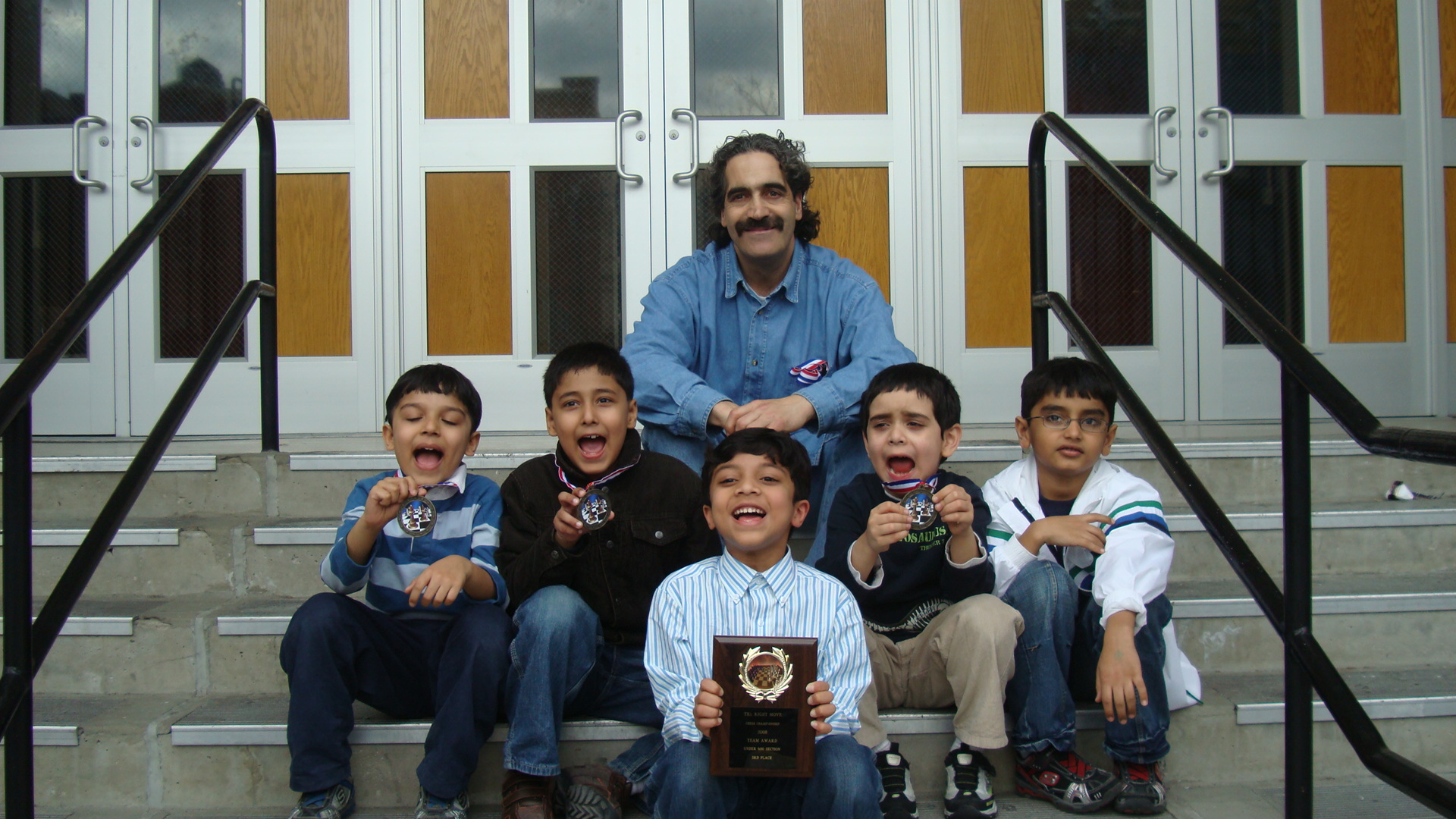 Chess Champions.

The Hoboken Chess Club participated in a chess tournament on Sunday April 6th , 2008 in New York . The tournament was sanctioned by the United States Chess Federation.

I'm proud to say, the results were great.

With a group of (25) twenty five Hoboken students participating in a room filled

With over 250 participants from New York , our children accomplished what they always have accomplished in the past,

THEY WON!

In the K-3rd grade section, Mema Khazanov, Ansul kaware, and Arpan Gupta , medaled for their scores of 2.5 points (out of 4) 2 wins, 1 draw and only one defeat. Yash tewari with a 1.5 score

However the star of this Section was Jeramiah Narramore. Jeramiah won 3 out of 4 games and placing in the top section.

The true success was our team scores. With Schools from all over New York City schools competing, and Plaques being awarded to only the top two finishers, two of our groups tied for second place. Both our Newport group and the Mustard Seed School won second place.

Our results in the rated section were even better!

With 5 players from the Cordero School in Jersey City , courtesy of our Newport group, their scores were even more astonishing.

The Award winners were;

Aryan Singh and Neil Mehta with 3 points. (3 wins and only 1 defeat!), and Yash Bajaj with a score of 2.5.

The number one player of the day, however was Anagh kulkarni.

Anagh went a perfect 4-0 to be named first place champion.

The Cordero School won First place and were named FIRST PLACE CHAMPIONS.

This was Cordero's second team Tournament first place finish. They won the 2007 New Jersey State Chess Federation Championship.

The players were;

Yash Bajaj, Ansul Kaware, Mema Khazanov, Anagh Kulkarni, Neil Mehta, Yash Tewari, Vrutik Thakkar, Aman Gupta, Arpan Gupta, Brecon Hession , Aryan Iyer
Daniel Khazanov, Bredan Klemm-Smith, Thomas Narramore, Jeramiah Narramore,
Ian Russell, Aryan Singh , Simran Singh , Max Tamarkin .
Chess Champions
New York City March 2, 2008